May's favorites were hard for me to pick out. I went back and forth between a few products deciding which ones I liked more. They're all inexpensive drug store products (got to love beauty bargains)! So I guess you can say May, for me was a good month for beauty finds.
Sauvé's Volumizing Root Boost Spray
My haircut is a lot of short layers on the top so I'm always looking for root boosting or volumizing hair products for when I blow dry my hair to give it some extra oomph. Sauvé recently came out with a new line of professional proven hair products that guarantee to work as well as salon products. I honestly wasn't expecting much but I was wrong. I already have some volume naturally bc of my short layers but when using this product I definitely saw results. I spray my roots by parting 1 to 2 inch sections and then continue to mist evenly through my roots and the mid shaft of my hair. I also use a big round brush concentrating on the crown.
Wet n Wild Color Icon 8 pan Eye shadow Palettes – in Comfort Zone
When I think of Wet n Wild it brings back memories from when I first started experimenting with make up. I remember buying there $1 eyeliners and nail polishes. They weren't the best quality but being a young teen it was what I could afford and honestly didn't know too much about the difference in the quality of makeup. I never thought that I would be comparing their eye shadow to some of the most expensive brands of makeup, but I am and I'm so glad! Wet n Wild recently came out with a new 2011 line with a brand new assortment of eye shadow palettes and they are incredibly pigmented and rich in color. Not to mention how smooth they go on and how long the color lasts. I'm totally in love with all of them. I believe they have a total of 6 different palette's in trios and 3 different 8-pan palettes. I'm going to show you one of my favs, its one of the 8 color sets. This one is called Comfort Zone and it has 2 brow bone, 2 eyelid, 2 crease, and 2 definer shades and their all labeled to give you the direction you need to create a gorgeous effect. I highly recommend these, if you haven't tried them yet, well you really should. I know you'll be impressed.


Body Bling by Scott Barnes
So I'm not going to lie, I use to be somewhat of a tanaholic, tanning beds and laying out the sun whenever I could. I know it was horrible for my skin. As I've gotten older I'm more aware of how bad the sun is for you. I've tried so many different self-tanners, even tried the spray tan at the salons. I never was really impressed with any of them. They either made me look orange or had no effect or they were streaky. Then I found Body Bling by Scott Barnes, a celebrated make up artist within the cosmetic industry. He has worked with world-renowned photographers with his work gracing the covers of magazines such as Allure, Harper's Bazaar, In Style, Vanity Fair and much more. Scott has also worked with a variety of celebrates such as: Beyoncé, Kate Hudson, Gwyneth Patrol and more. Body Bling is the only self tanner I will use. Its easy to use tube ensures a flawless application. You basically just apply it like you would a moisturizer, (of course rubbing it in more thoroughly) I've never experienced any streaks. . I have been using it on my legs when I wear capris and I love how it looks like you just got back from a tropical vacation. I use the original Body Bling that comes in a 1oz tube. It looks small but you only need a tiny bit and I've had mine for months.
Got2b Rocking It Dry Shampoo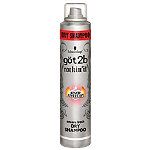 I've always loved most of Got2b's hair products. So when they recently came out with their dry shampoo I had to try it. Especially since I don't wash my hair everyday, so on the 2nd (or sometimes 3rd day) this come in handy. You just shake it very well, spray it about 8 inches away from roots, rub it into scalp then brush it out. TIP: After applying the dry shampoo blow dry your roots with a round brush. The mix of the dry shampoo and the natural oils will make for a great volumizer, so you'll get an extra day out of your blow-out and major volume
When I say this is a favorite brush among the high end Big Name ones in my collection I'm not kidding! It's the same shape and does everything the MAC –239 brush does but in my opinion the bristles are softer. The store Target near me finally started selling a full line of e.l.f products. The first time I came across it I was so excited (especially bc the highest price item was $5)! So I went a little crazy and bought about 15 items. I couldn't resist (being the beauty addict that I am). I was so surprised the first time I used this brush, it's especially great for picking up pigments and even for the crease of the eye. The one negative thing I could say about this (and it really doesn't matter to me since it was only a $1) but they don't clean as well as my other brushes do. For some reason the eye shadow doesn't come off as easy. I would still prefer this brush over some of the higher priced ones. Can we say BEAUTY BARGAIN!!!